Hi, we are Kevin & Stacy, owners of Toes in the Sand and part-time residents. We currently reside in Atlanta but have been vacationing along 30-A since the 1980s. We enjoy spending time at our beach home with our friends and family and love the quaint, white-picket fenced Summer's Edge neighborhood.
We hope you enjoy Toes in the Sand as much as we do. Come on down and visit and enjoy a truly special vacation.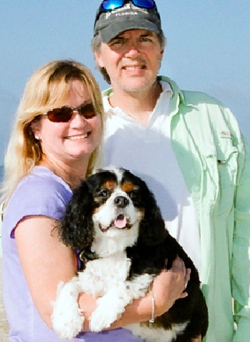 Why Kevin & Stacy chose Beaches of South Walton
LOCATION, PRIVACY, BEACH, LAKE - Prestigious Summer's Edge is a private, (Southern Living) award-winning, Gulf-front community with luxurious vacation homes similar to nearby Seaside, Watercolor, WaterSound and Rosemary Beach... except we are closer to the beach and adjacent to beautiful Eastern Lake, a bird and wildlife sanctuary. Summer's Edge has two pools (one heated). Summer's Edge is a quiet, family-oriented community within walking distance to everything yet away from all the crowds.
BEST OF BOTH WORLDS (Beach & Lake) Easy beach access is provided via the neighborhood's wooden boardwalk. Seagrove has one of the finest sugar white sand beaches you will see and is renowned for its natural scenic beauty and turquoise waters.
Eastern Lake, a coastal dune lake and bird & wildlife sanctuary is located just a few blocks away. You will find public access where kids can play, YOLO boarding, kayaking, fishing (fresh & saltwater)
A wide tree-lined, street, direct, private beach access, two pools and a privacy gate combined makes Summer's Edge the perfect location. Toes in the Sand offers a private, fenced/gated back yard with brick patio, a grill, outdoor shower, complimentary beach equipment for your enjoyment; a tower to watch the sunsets, large porches to accommodate large families and a well equipped house.
South Walton is a mix of sophisticated style and Old Florida charm giving it a unique vibe. Discover local artists, quaint beach shops and boutiques. There is plenty to do and we are conveniently located to everything. If you seek a relaxing getaway then the place to be is South Walton, even better is south of 30-A (the beach side) and the very best is at Summer's Edge. Why choose Toes in the Sand? Simple. It offers the best value not only in Summer's Edge but in the local area. Check it out for yourself. We invite you to come down and put your 'Toes in the Sand.' You'll be glad you did.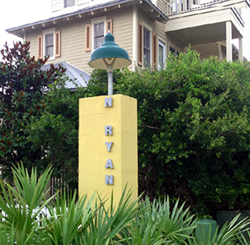 What makes this house unique
Watching sunsets from the 'Tower,' read or nap in a hammock to a gentle gulf breeze; take a short, 4 minute stroll to the beach (about 250 yards) via the neighborhood walkway (no need to cross the highway), walk to local restaurants and shops or around 30A. Riding bikes along the 18+ miles of bike trails (located outside our neighborhood gate), Eastern Coastal Dune Lake, Deer Lake Park or a brief 2 miles to Seaside for wine tasting, a movie, live music and dancing. On Saturday and Tuesday mornings the Seaside Farmers Market offers fresh local produce, dairy products, baked goods, and native plants. Demonstrations in cooking and gardening are also held on a regular basis. Swimming in the heated pool (500' away) in early spring and late fall or in the non-heated, infinity pool mid-summer. Cooking and eating in with family or going out to visit a variety of restaurants. The ice cream truck visits daily with ice cream treats for the kids. No need to worry about traffic or the kids in this gated, upscale, private community. There are numerous year-round events nearby for all ages.
There are excellent award-winning restaurants nearby including Cafe 30A (check out the BOGO before 6 p.m.), Bud & Alley's, and Red Bar. Or check out Goatfeathers for fresh seafood.
South Walton is an ecological paradise with more than 40% (56,000 acres) of the area preserved state land, providing many natural attractions. There are miles of paved trails that are ideal for biking, hiking, and jogging and the State Parks, including Point Washington State Forest, also have trails for off-road biking. Fresh and salt water lakes, Choctawhatchee bay and the Gulf of Mexico provide many waterfront miles for swimming, fishing, kayaking, YOLO boarding and other recreational past-times.
South Walton is also home to the largest concentration of rare coastal dune lakes in the world. Similar eco-systems can only be found in Madagascar, Australia, New Zealand, and the NW Pacific coast
We currently live in Atlanta, GA and have been vacationing along Scenic Highway 30A since the 1980s. Seagrove has always been a special place to us and a great getaway. We enjoy our beach home, relaxing on the top third floor (the tower) with a glass of wine overlooking the ocean, feeling the gulf breezes, biking in and around Eastern Lake (just a few blocks awayWINE GLASS-2), fishing and hanging out at the beach, visiting the Seaside Farmer's Market, exploring the 56,000 acres of natural state park, discovering local artists, singers/songwriters and visiting with family and friends in our quaint, white picket fenced seaside community, Summer's Edge.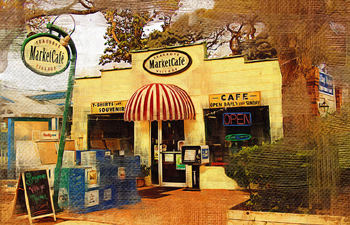 SoWal (South Walton County)
Many know Destin, FL but may be unaware of the 16 unique communities along highway 30A in South Walton County (SoWal) about 24 miles East of Destin. One of the first communities, Seaside, has received international accolades and recognition as a pioneer in New Urbanism, which is now studied at leading architectural schools worldwide. Next to Seaside is Seagrove where you will discover the acclaimed Summer's Edge beach community and our beach home, Toes in the Sand. You will not find any high rises, franchises or outlet malls along 30A. Instead, you will discover old Florida charm, quaint boutiques, renowned restaurants, exciting events and festivals (many within walking or biking distance) and, of course, arguably the most beautiful beach in the world. Visitors of South Walton have long since known of the spectacular beaches and laid back communities that line Northwest Florida's Gulf Coast – but now they're spreading the news. South Walton has been the recipient of many recent accolades, including an international proclamation that a Gulf Coast beach is the best on Earth.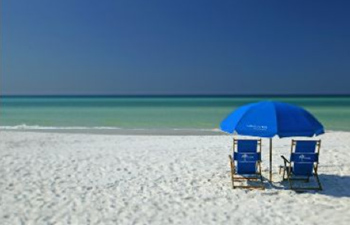 Seagrove Beach
Named for the thick grove of windswept trees that surround it, Seagrove still maintains the same green canopy of oaks, magnolias, hickories, and sand pines that came to define it a half a century ago. Today, Seagrove is an eclectic mix of quaint beach cottages, elegant Euro-Caribbean & Craftsman Bungalow style homes as well off-beach activities that range from exploring the unique coastal dunes, bike trails, golf courses, Choctawhatchee Bay and other natural wonders to browsing the local shops, art galleries and restaurants along Scenic Highway 30A. In Seagrove, the options are endless. From water activities to shopping and exquisite dining, spend the day soaking up the best the Gulf has to offer in this eclectic seaside neighborhood.
Seagrove has one of the finest sugar white sand beaches you will see and is renowned for its natural scenic beauty and turquoise waters earning Travel + Leisure magazine's award for 'Best Beaches on Earth' for families. Santa Rosa Beach was named one of the "10 Best Beach Destinations for 2011" by Yahoo! Travel, which praised its "lapping waves and cool sand" and the endless array of outdoor and indoor activities. Featured in Forbes, Entrepreneur and Florida Trend magazine, 30A.com's "Local Guide" and TownWizard, news about the Emerald Coast has spread to 150 markets worldwide.
Frommer Travel Recognizes the Lifestyle and Natural Beauty of the Florida Panhandle beaches as a "top 10 destination" for sixth year in a row. The "Florida Panhandle Beaches" is the only continental U.S. destination included in Frommer's list of Top Destinations! "Stunning beaches, nature trails … great restaurants, and a cozy, yet quirky, sense of community." — Frommer's